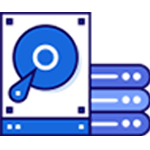 What is business continuity and disaster recovery?
If things go wrong, we make sure that our clients have a continuity plan that allows them to get back up and running as quickly as possible. Whether it be from natural disasters, hardware failure, or even human error, we work with companies to have a plan in place that minimizes down time.
Business continuity and disaster recovery services include
Back up and support
If by any reason you lost your data, we will make sure that your business goes as usual by giving you the tools to get it back on track
Testing
We make sure that you are covered in the worst-case scenarios by constantly testing and correcting.
Customized support
Experts available. Give us a call, tell us what you need and we will be more than glad to help you.