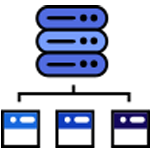 What is network technology?
Before we can start solving the technology issues of your business, we need to understand your I.T. network. Most importantly, we need to make sure you have a solid foundation for technology to run effectively. Building on top of a shaky foundation will only make matters worse.
Network technology services include
Experts available
Our experienced IT technicians provide an infrastructure map that allows you to understand the system.
Planning
Trying to patch together a network without fully developing a strategic design plan can be one of the key failures of integrating technology.